Big Hero 6: Baymax Returns Excl. Clip: Fred Fails to Rally the Team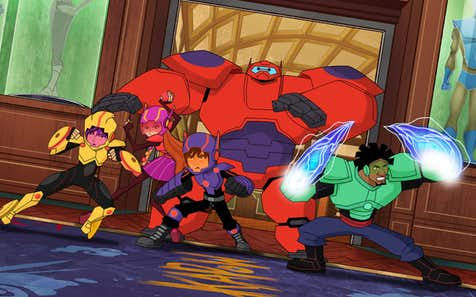 The Big Hero 6 team is back — though getting to that point may be easier said than done, as seen in this exclusive clip from Disney XD's Big Hero 6: Baymax Returns, tonight's one-hour premiere episode of Big Hero 6: The Series.
RELATED: IDW to Publish Big Hero 6 Comics
Big Hero 6: Baymax Returns directly follows up on the events of 2014's Academy Award-winning Marvel-inspired Disney animated feature, Big Hero 6. As Baymax Returns begins, the team has moved on from superheroic adventures — though Fred (voiced by former Saturday Night Live cast member Brooks Wheelan, taking over the role from T.J. Miller) is determined to keep patrolling the streets of San Fransokyo. As seen in the exclusive clip, above, his former teammates GoGo Tomago (Jamie Chung, returning from the film), Honey Lemon (Genesis Rodriguez, also returning) and Wasabi (Khary Payton, stepping in for Damon Wayans Jr.) are considerably more hesitant.
Big Hero 6: Baymax Returns naturally also features the return of main character Hiro Hamada and fan-favorite health care companion robot Baymax, with Ryan Potter and Scott Adsit, respectively, returning to their roles from the film.
"When we started on the film, the way the two characters were written, it's kind of just us," Potter said, of Hiro and Baymax, at a Q&A for the show in Los Angeles earlier this month attended by CBR. "It's us being able to bring our personalities to these characters. The chemistry's just kind of there."
"I think the relationship evolves during the course of the movie, where originally Baymax is like a baby, and you're helping him understand the world," Adsit told the crowd at the event. "Then you become brothers. Then, by the end, you have to say goodbye to Baymax — he's sacrificing himself for you, and teaching you a lesson. So he becomes a father figure. So over the course of that, they've had every male relationship you can have, pretty much, familiarly. With the pilot, it's almost a soft reboot, because it's Baymax with a new chip, and a purpose beyond just helping medically."
The original Big Hero 6 was significant not only because of its acclaimed visuals and story, but also for its refreshingly diverse cast — led by a biracial Asian-America character (Hiro). For Potter, himself of Japanese and Caucasian descent, it's personally meaningful that the show continues this valuable representation.
"The kid in me that will always be there gets to identify with Hiro," Potter said. "It's amazing. Growing up, the only thing I could even remotely relate to was anime, and then there were a few American titles that kind of had an anime style, or incorporated a character that was kind of ethnically ambiguous, and you could just be like, 'Oh yeah! That's me!' For the community now, we have a project where you don't have to assume that person is Asian-American or mixed race — he just is."
Developed by Kim Possible creators Mark McCorkle and Bob Schooley, Big Hero 6: Baymax Returns airs 8 p.m. tonight on Disney XD. Following the one-hour premiere episode, the series is scheduled to continue in early 2018.