News Sword Art Online: Ordinal Scale Film Earns 40 Million Yuan, Ranks #3 in China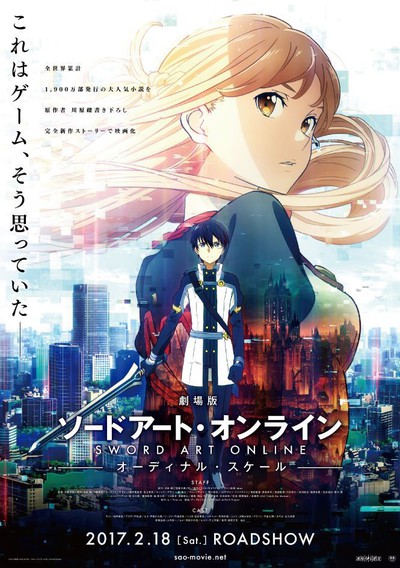 Film is 11th highest earning Japanese film, 9th highest earning anime film in China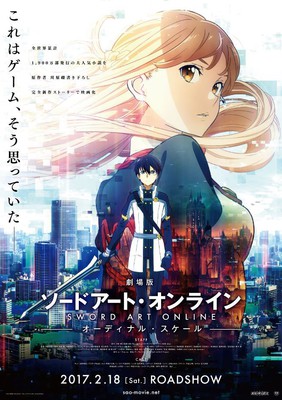 The Sword Art Online: Ordinal Scale anime film opened in China last Friday and earned 40 million yuan (660 million yen or about US$6.11 million) in its first three days in 6,000 theaters to rank #3 in the Chinese box office. The film is now the 11th highest earning Japanese film in Chinese box office history, and the ninth highest earning anime film. The film sold about 1 million tickets.
A Silent Voice opened in China on September 8 and earned 32 million yuan over 3,000 theaters (500 million yen or about US$4.95 million) in its opening weekend. The live-action Gintama film opened on September 1 and earned 61.39 million yuan (about US$9.37 million or about 1.03 billion yen) over 8,000 theaters (the largest screen count for a Japanese live-action film in Chinese box office history) in its first three days.
As of May, Sword Art Online: Ordinal Scale had earned more than 3.35 billion yen (about US$30.1 million) worldwide, and had sold more than 2,750,000 tickets.
The film opened in Japan on February 18, and sold about 308,376 tickets for 425,762,760 yen (about US$3.76 million) in its opening weekend. The film was the first anime film to rank #1 in both weekend attendance and weekend box office receipt totals since Makoto Shinkai's your name. The film also set the opening-weekend record among films distributed by Aniplex.
The film also surpassed US$1.35 million in ticket sales in its in North American theaters when Aniplex of America and Eleven Arts screened the film in the United States on March 9. The film had held a Hollywood premiere on March 1. The film also screened in Canada during the March 17-19 weekend. The film then returned to U.S. theaters with an English dub starting on April 22.
Original light novel author Reki Kawahara wrote the new story for the film. Tomohiko Ito returned from the two TV anime series and the anime special to direct the film at A-1 Pictures. Shingo Adachi also returned from the TV anime to design the characters based on abec's original character designs, and Yuki Kajiura returned to score the music.
Source: Animation Business Journal (Tadashi Sudo)