Top 10 Best Male Cosplayers in the World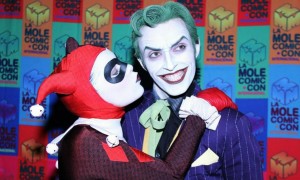 Cosplay has been gaining popularity year after year.
Now, as men put their artistic and creative abilities to the test, cosplay women have some worthy competition.
Best of all, many of these men are collaborating with their fellow female Cosplayers to create some of the most realistic costumes and scenes in the industry.
Here are the top 10 best male cosplayers in the world.
10. Roland's Forge
Roland's Forge has been creating costumes and accessories since at least 2008.
He's a graduate of UNCG's sculpture department and originally got into Cosplay to strengthen his portfolio for a future job in prop making.
Although Cosplay may not be more than a hobby for Roland's Forge, he has created incredibly realistic costumes like the villainous Jafar from Disney's Aladdin.
9. Xailas
Jeff Siegert is a multi-talented artist, costume designer, and music producer from the United States.
He impresses Metal Gear fans with his incredibly detailed costumes of Raidan.
8. Elffi
The best in cosplay reaches as far as Finland, where Elffi takes every opportunity to show off his latest creations.
In addition to being a well-known cosplayer, Elffi is also an artist and model.
He creates and wears costumes ranging from Yasuo of League of Legends to the aptly named The Duct Taped Man.
His cosplay persona is frivolous and fun; he doesn't take himself too seriously but still designs beautiful, realistic costumes.
7. Justin Acharacter
Justin Acharacter was an artist who loved nothing more than bringing gaming characters into real life with amazing Cosplay.
On his Facebook page, he wrote: "I like to make my costumes look like they have just stepped out of a comic book or movie."
He definitely succeeded. Through characters from Borderlands to The Dark Knight, Acharacter transformed himself into a real-life fiction.
In late November 2014, Justin sadly passed away aged 42 from a fatal heart attack.
6. Carlos Blanchard
Carlos Blanchard works with Rage Custom Creations to make the highest quality custom props, costumes, and graphic design products.
Hailing from the United States, Blanchard has made a name for himself in the Cosplay community as a dedicated costume designer and graphic artist.
He's known especially for his work on the Medieval Batman and Facehugger Corset, two costumes that earned him and his company the respect of international Cosplayers.
5. Knightmage
Keep your eyes open on the streets for Knightmage, the newest superhero (and Cosplay artist) on the block.
Knightmage is about more than crafting amazing costumes and bringing superheroes to life.
He's also about giving back to the community and spreading good will through Cosplay.
On January 14th, Knight Mage was able to raise and donate money to over 10 different charities in the community.
When he's not giving back, he's perfecting his costumes of Black Widow, Venom, and Moon Knight.
4. Something Wicked Cosplay
Hailing from Australia, Something Wicked Cosplay collaborates with the best artists he can find to create stunning costumes of The Joker, Robin, Spider-Man, and even the Ghostbusters.
More than costumes, he and his collaborators recreate incredibly detailed scenes from some of the best superhero movies such as like Batman and Spiderman, truly bringing that grand world to life, and having fun doing it.
3. Kelan Ord
Kelen Ord is a self-proclaimed geek and proud of it (parts of his apartment are decked out in Star Wars memorabilia that would make any superfan drool).
One of his greatest creations is a creation based on Boba Fett from the Star Wars movies, considered one of the best Star Wars-inspired costumes in the Cosplay community. He's constantly working on new props like laser blasters and light sabers He is also a member of the Mandalorin Mercs Costuming Club.
2. Junkers Cosplay
Junkers Cosplay is based in San Diego, which becomes the epicenter of cosplay every year when thousands attend Comic Con, one of the biggest comic book/movie/video game conventions in the world.
Junkers studies engineering at the University of San Diego, but puts everything he has into crafting one-of-a-kind costumes and props, like Rain and Demicain.
He and his partners also model their costumes, showing off their abs and comic-book character physiques.
1. Harley's Joker
Before Christopher Nolan and Heath Ledger transformed the look and personality of The Joker in The Dark Knight trilogy, there was only the original.
Obviously, his favorite character is the traditional Joker, the one with the purple pin-striped suit, green hair, white makeup and the biggest (and most dubious) smile.
His costume and portrayal of The Joker is so convincing, it's hard to tell him apart from the one in the comics and movies.
(source:therichest)